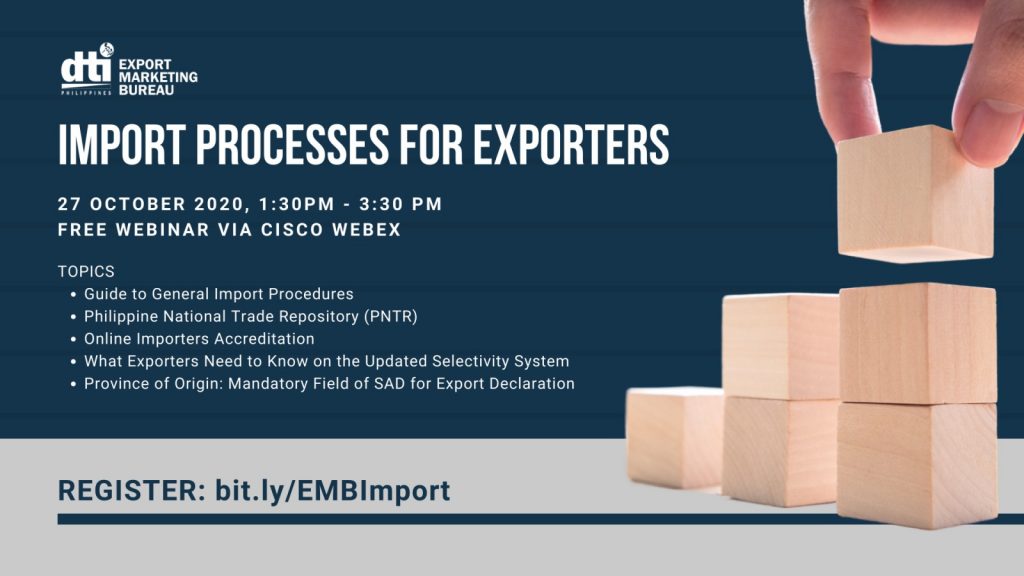 Department of Trade and Industry-Export Marketing Bureau (DTI-EMB) invites participants to the Philippine Export Competitiveness Program (PECP) Webinar: Guide on Import Processes for Exporters on 27 October 2020, 1:30pm – 3:30 pm via CISCO Webex.
The program will be featuring the following topics: Guide on General Import Procedures; Philippine National Trade Repository (PNTR): Importers and Exporters Single Source of Trade-Related Information; Online Importers Accreditation; What Exporters Need to Know on the Updated Selectivity System; and Province of Origin: Mandatory Field of the Single Administrative Document (SAD) for Export Declaration.
Interested participants may register through bit.ly/EMBImport. Registered participants will be emailed with a meeting link prior to the event. For further inquiries, you may contact Ms. Des Bernardo through email: PECP@dti.gov.ph.