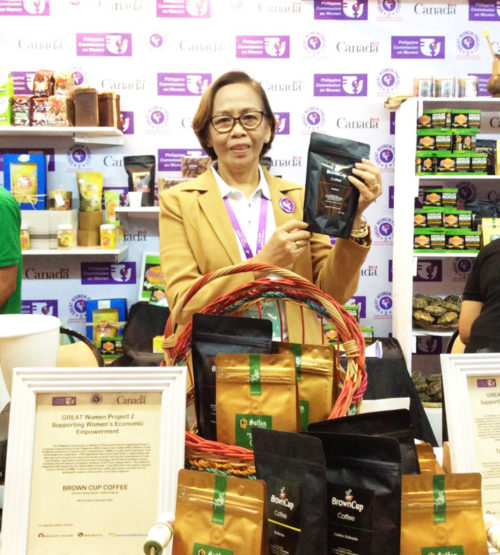 Koronadal City, South Cotabato – A Robusta coffee entry of a coffee farmer and processor in Sultan Kudarat was declared as the top eight best coffee in the recently concluded Philippine Coffee Quality Competition (PCQC) 2021.
Rebecca B. Gacayan of Sen. Ninoy Aquino, Sultan Kudarat, one of the coffee micro, small and medium entrepreneurs (MSMEs) being assisted by the Department of Trade and Industry 12 (DTI-Region 12), competed with 68 other Robusta entries from all over the country in the yearly PCQC.
The coffee entry of Mrs. Gacayan, processed using the natural processed method, was among the 12 entries of Region 12 in the yearly competition for the best fine Robusta and specialty Arabica in the country that is the PCQC, organized by the DTI, Department of Agriculture (DA), Barista and Coffee Academy of Asia (BCAA), and ACDI-VOCA PhilCafe Project of the US Department of Agriculture.
DTI-12 Regional Director Jude Constantine S. Juagan said that the recognition given to Ms. Gacayan as among this year's top 12 Robusta proves that the coffee produced by the region's MSMEs can compete with the best coffee of the country.
"We are very happy that one of the coffees of Region 12 is dubbed as among the best Robusta coffee in the country. It is our challenge in DTI together with our partners to intensify our efforts in replicating this success among the other coffee farmers and processors of the region," said Dir. Jaugan.
Coffee is one of the priority industries being assisted by DTI through the Rural Agro-Enterprise Partnership for Inclusive Development and Growth (RAPID Growth) project, a five-year project being funded by the International Fund for Agricultural Development (IFAD) that supports the socio-economic agenda of the current administration in reducing poverty through strengthening rural enterprises particularly in provinces with poverty incidence above forty percent. Mrs. Gacayan is the owner of Gacayan General Merchandise and the person behind BrownCup Coffee and Sultan Coffee brands, a staple local beverage and Region 12's banner pasalubong products.
_
Stay updated with news and information from the Department of Trade and Industry by visiting their website at dti.gov.ph.