Increase in maximum allowable commercial flight movement in country's premier gateway seen  
Department of Transportation (DOTr) Secretary Arthur P. Tugade and Executive Secretary Salvador Medialdea led the inauguration this morning, 16 February 2021, of the upgraded airside facilities of the Ninoy Aquino International Airport (NAIA), which aims to increase the maximum allowable commercial aircraft movement in the country's primary gateway.
The completed repair and cement overlay of NAIA's Runway 13/31 and the construction of an additional holding area (H5) at Runway 13 (153 meters long by 22 meters wide) will boost the gateway's maximum allowable commercial flight movement capacity from 40 to 50 flight movements per hour, or a total of 240 commercial flight movements per day.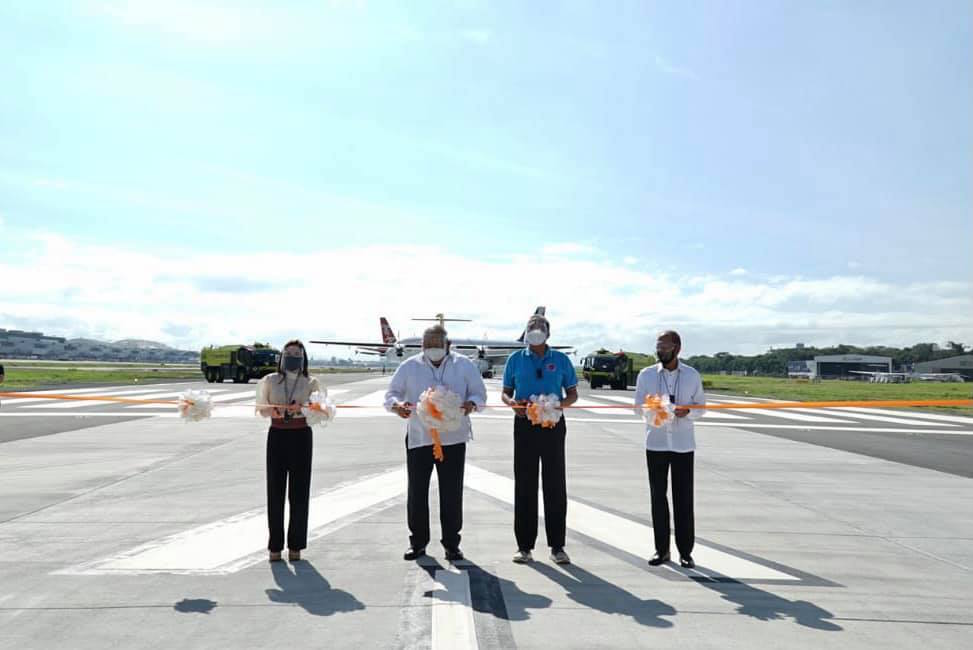 Transport Secretary Tugade said the upgraded NAIA airside facilities show that MIAA can pursue development projects at the gateway on its own.
"Today I am very, very happy and full of gratitude. Alam n'yo, may usapan 'ho na kung walang unsolicited proposal, walang proyekto. Hindi 'ho totoo 'yun, 'pagkat, bago dumating ang pandemya, bago nagkaroon ng diskusyon sa unsolicited proposal, sa leadership ni Ed Monreal, sige-sigeng ginagawa na niya  ang mga improvements dito sa MIAA, sa Terminal 1, 2, 3 and 4. Nagpapakita lang na walang hinto, pandemic or not, walang hinto ang pagbabago dito sa NAIA," he said.
When President Rodrigo Roa Duterte and Secretary Tugade assumed office, MIAA's airside facilities including its runways, taxiways, aircraft holding areas/points and aprons constantly suffered from potholes and surface depressions which caused longer aircraft ground time prior to landing and/or take off, and limited number of aircraft movements per hour which caused flight delays and congestion.
In his keynote speech, ES Medialdea said the NAIA facilities upgrade is a testament that the Build Build Build program of the Duterte administration continues to be in full-swing even during the pandemic.
"As air traffic slowed to an unprecedented level due to the pandemic, this presented us with the opportunity to address the congestion problem. It allowed us to work more freely with the upgrading and rehabilitation of our airports. Thanks to the Department of Transportation and the insightful leadership of Secretary Tugade, they took advantage of the pandemic for the benefit of the people. We thank the DOTr for its perseverance, particularly in the repair and upgrading Runway 13/31," ES Medialdea said.
The Executive Secretary further commented that the completion of the upgraded NAIA runway could not have been more timely, as the country looks forward to the deliveries of COVID-19 vaccines from abroad.
"This completed project will be beneficial in facilitating air traffic at NAIA, especially needed now, as we prepare for the continuous arrival of vaccines for the people. On behalf of President Duterte, I congratulate the DOTr for a job well done. Ipagpatuloy natin ang ating mabuting trabaho para sa ating mga kababayan," he said.
To recall, Secretary Tugade earlier directed the NAIA management to continue improving NAIA while waiting for the private sector unsolicited proposals. Heeding the call of the Transport Chief, MIAA, under the leadership of General Manager Ed Monreal, pushed through with its plans for airside improvements.
"The aviation industry was not spared from the pandemic's dire effects. However, it also opened an opportunity for us in the MIAA, to redirect our efforts to prepare for the post-COVID travel scenario. Even as there are talks of proposals from the private sector, the MIAA continued the rehabilitation of NAIA facilities as guided by our good Secretary, Secretary Tugade. These projects were carried out to bring alive our vision of uplifting the lives of our fellow countrymen through the services we can offer for aviation," said MIAA General Manager Monreal.
The MIAA is confident that when additional airside related projects are completed within the years 2021 and 2022, it can, on its own, achieve the goal of 60 commercial flight movements per hour as contained in the unsolicited proposal. This is a more practical approach, rather than awaiting and being dependent on the unsolicited proposal's approval.
On his part, Defense Secretary Delfin Lorenzana lauded the completion of the latest upgrade works at the NAIA, stressing the important role airports play in the country's national defense.
"Alam po ninyo, ang infrastructure–airports, seaports, roads–are important to defense. Our experience here in NAIA is that, whenever we go to the provinces at night, before the pandemic, sometimes we wait for 30 to 45 minutes to land.  Because of this new runway, mapapabilis ang pag-takeoff and landing," he said.
Tourism Secretary Bernadette Romulo-Puyat also lauded the DOTr and Secretary Tugade for the completion of the latest infrastructure upgrades at the NAIA as she noted that these will prevent unwanted flight delays as the country reopens more tourism areas.
"At least, kapag magrecover na ang tourism, hindi na delayed ang mga flights. So thank you very much, Sec Art Tugade. Rest assured that the DOT (Department of Tourism) will be always here to support you. You are the best seatmate ever, best co-worker," said Secretary Romulo-Puyat.
The concrete overlay used in the improvement of Runway 13 is expected to last between 15 to 20 years and is less prone to potholes, soft spots and rutting. A concrete surface also requires less maintenance and repair which would mean less traffic delays and flight disruptions in NAIA.
Better runway and taxiway surface that is free from potholes and surface depression will translate to faster aircraft movement and ground efficiency. Meanwhile the newly constructed aircraft holding point/taxiway (Hotel 5, 153 meter x 22 meter) will also increase the aircraft movement area.
—
Stay updated with news and information from the Department of Transportation by visiting their website at https://dotr.gov.ph.