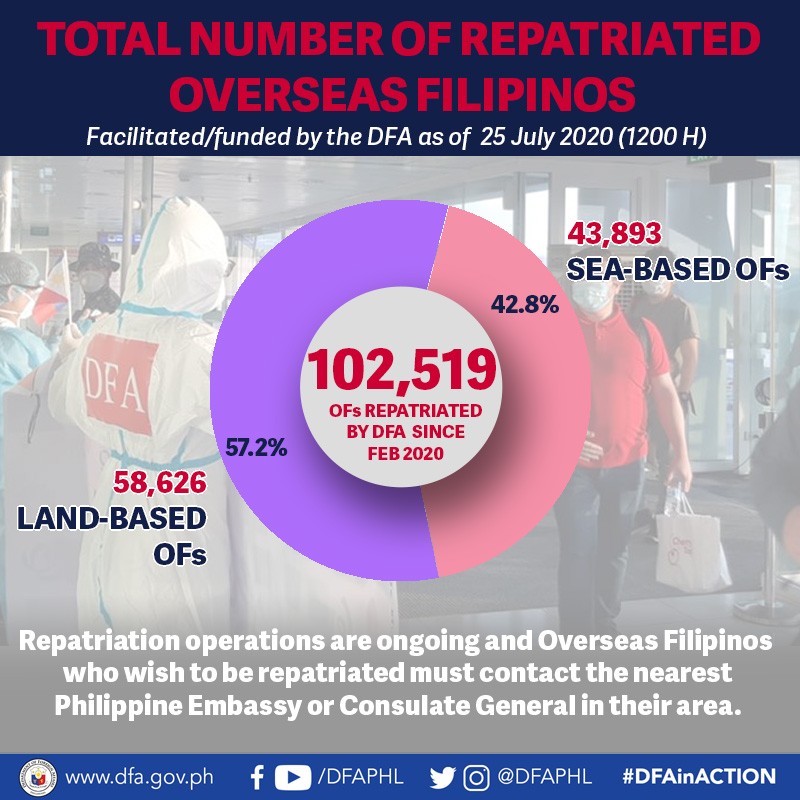 With an additional 12,022 overseas Filipinos repatriated this past week, the Department of Foreign Affairs (DFA) have now surpassed the 100,000-mark in the total number of overseas Filipinos brought home to the Philippines from all over the world.
The DFA began its repatriation efforts last February as part of the whole of government approach in addressing the COVID-19 global epidemic.
"Repatriating more than 100k overseas Filipinos is a first in the history of DFA," said Foreign Affairs Undersecretary for Migrant Workers' Affairs Sarah Lou Y. Arriola.
"It may look easy but in reality it was difficult. But through the sustained efforts of our dedicated personnel who labored 24/7 since February and the full cooperation of all our Foreign Service Posts, we pulled this feat off," added the Undersecretary.
Of the 102,519 overseas Filipinos (OFs) repatriated since February, 42.8 percent (43,893 OFs) are sea-based and 57.2 percent (58,626 OFs) are land-based. The most recent repatriates arrived from the Netherlands, New Zealand, Qatar, Saudi Arabia, the UAE, and the USA.
This week, the DFA brought home a total of 8,895 OFs from the Middle East, 1,806 from the Asia-Pacific, 677 from Europe and 644 from the Americas.
"Pandemic or not, the men and women of the DFA, including those of our embassies and consulates around the world, remain fully committed to bringing home our distressed nationals abroad," concluded Undersecretary Arriola.
—
Stay updated with news and information from the Department of Foreign Affairs by visiting their website at dfa.gov.ph.