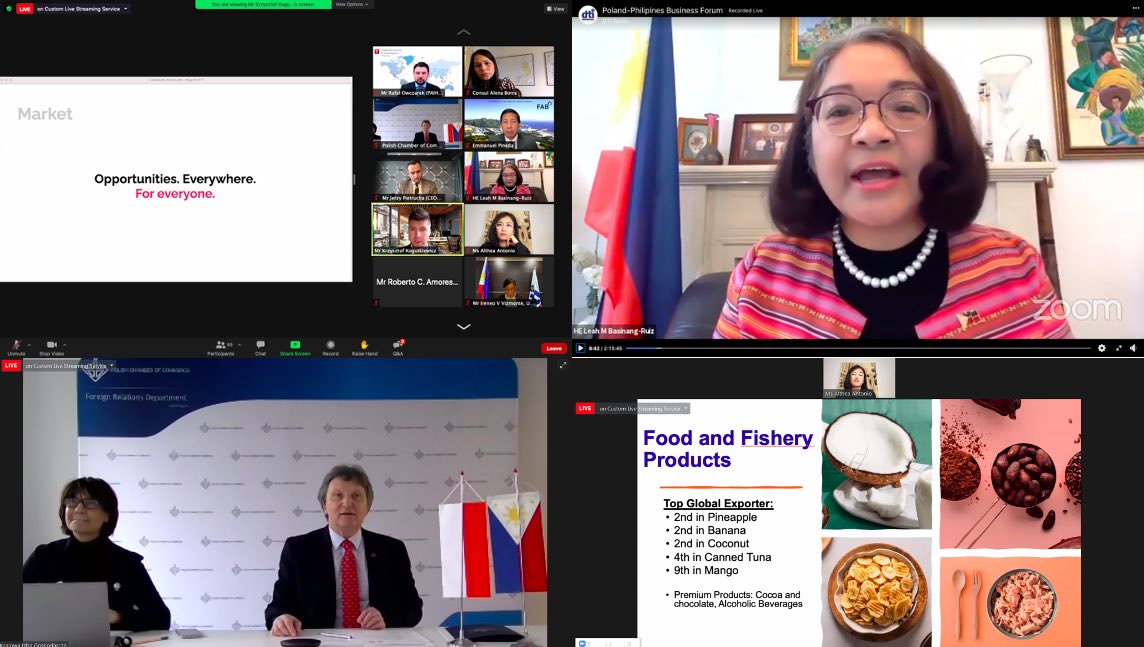 The Philippine Embassy in Warsaw, the Philippine Trade and Investment Center (PTIC) in Berlin, and the Polish Chamber of Commerce co-organized a business webinar entitled, "Let's Do Business Together: Poland-Philippines, Perspectives and Opportunities for Cooperation" on April 8, 2021.
The event brought together a total of 94 participants from the Philippine and Polish business sectors business sectors of the two countries and created an exchange of information and insights on trade and investment opportunities from both the government and private sectors, the first of its kind in Philippines-Poland trade relations.
"Opportunities. Everywhere. For everyone" said Mr. Krzysztof, Chief Executive officer (CEO) and Co-founder of Nextbank, a Polish fintech company that has found success operating in the Philippine market, capturing the essence of the business webinar.
Philippine Ambassador to Poland Leah M. Basinang-Ruiz emphasized that the aim of the webinar is to "provide a much-needed impetus and spark to get things moving again, to overcome the disruption in many business sectors caused by COVID-19".
"We are confident that this meeting will generate a robust exchange of information and ideas, facilitate discussions and, most importantly, connections that can later translate into real and concrete trade activities and exchanges," Ambassador Basinang-Ruiz added.
The extensive line-up of speakers and panelists of the webinar include: Department of Trade and Industry (DTI) Undersecretary Ireneo V. Vizmonte; Polish Ministry of Economic Development, Labour and Technology Undersecretary Robert Tomanek; Ms. Althea Antonio of the Philippine Trade and Investment Center – Berlin; Mr. Rafał Owczarek of the Polish Investment and Trade Agency – Manila Bureau; Polish Chamber of Commerce President Dr. Andrzej Arendarski; Asia and ASEAN Affairs Vice Chair and Director for Agriculture and Fishery, Philippine Chamber of Commerce and Industry Roberto C. Amores; Mr. Emmanuel D. Pineda of the Authority of the Freeport Area of Bataan; Mr. Jerzy Pietrucha, Chairman of the Pietrucha Group; CEO and Co-founder of Nextbank Krzysztof Kogutkiewicz; and Philippine-Poland Business Council Chairman under the PCCI Allyson Artes.
—
For more information, visit https://www.warsawpe.dfa.gov.ph, https://www.facebook.com/PHLinPoland/ or https://www.twitter.com/PHLINPL.