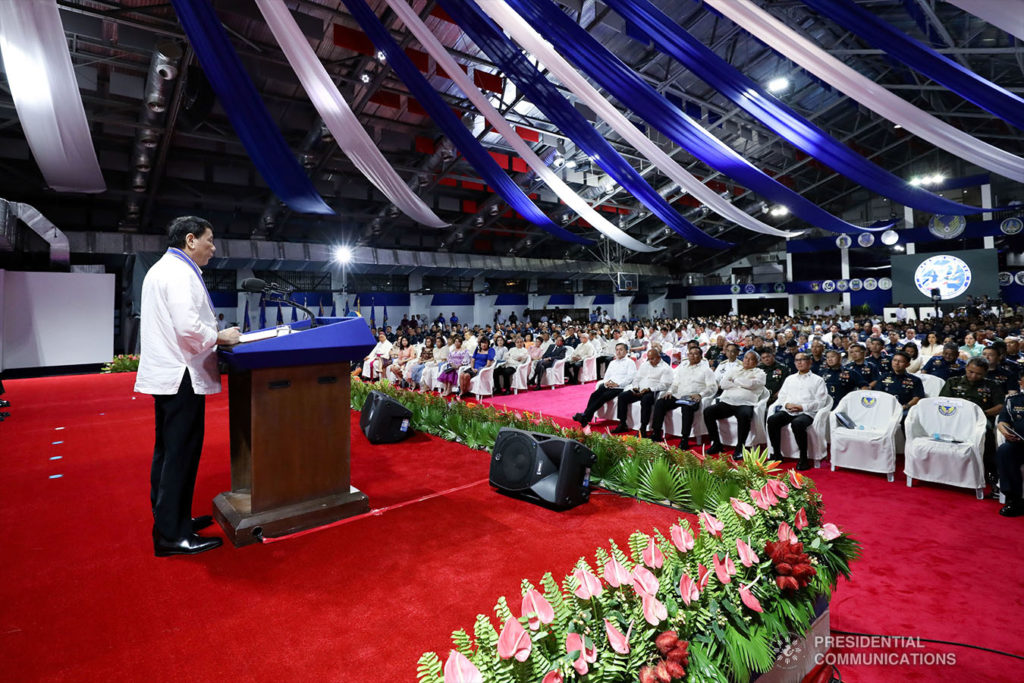 President Rodrigo Duterte on Tuesday said he hopes to complete a certain phase in the Armed Forces of the Philippines Modernization Program before his term ends in 2022.
"I am hoping and praying that before my remaining three years will expire…that all of these things especially the labeled 'Horizon Projects' of yours will be completed during my term," President Duterte said in a speech during the 72nd anniversary of the Philippine Air Force (PAF) in Villamor Air Base, Pasay City.
"I want to leave the office of the presidency with an assurance to myself that I leave the functions…pass it on to the next whoever he will be, na sana naman he will also take care of the requirements of the Armed Forces because it is a continuing one," he added.
The AFP Modernization Program is divided into three horizons. The first was implemented from 2013 to 2017; the second, from 2018 to 2022; and the third, from 2023 to 2028.
He assured PAF that his administration will continue to pursue all efforts to enhance its capabilities against current threats through modernization and capacity building initiatives such as the Military Pilot Training.
Stressing the government's good financial standing, he said he is pleased with the PAF's modernization, particularly with the acquisition of an Air Defense Radar System and an FA-50PH flight simulator earlier this year.
He also mentioned the expected delivery of six A-29B Super Tucano aircraft and Air Defense Surveillance Radar System.
The PAF will also receive substantial assets such as 16 projects worth over P139 billion from the Second Horizon of the Revised AFP Modernization Program. This includes the procurement of utility vehicles, drones, and other command and control fixed-wing aircraft, among others.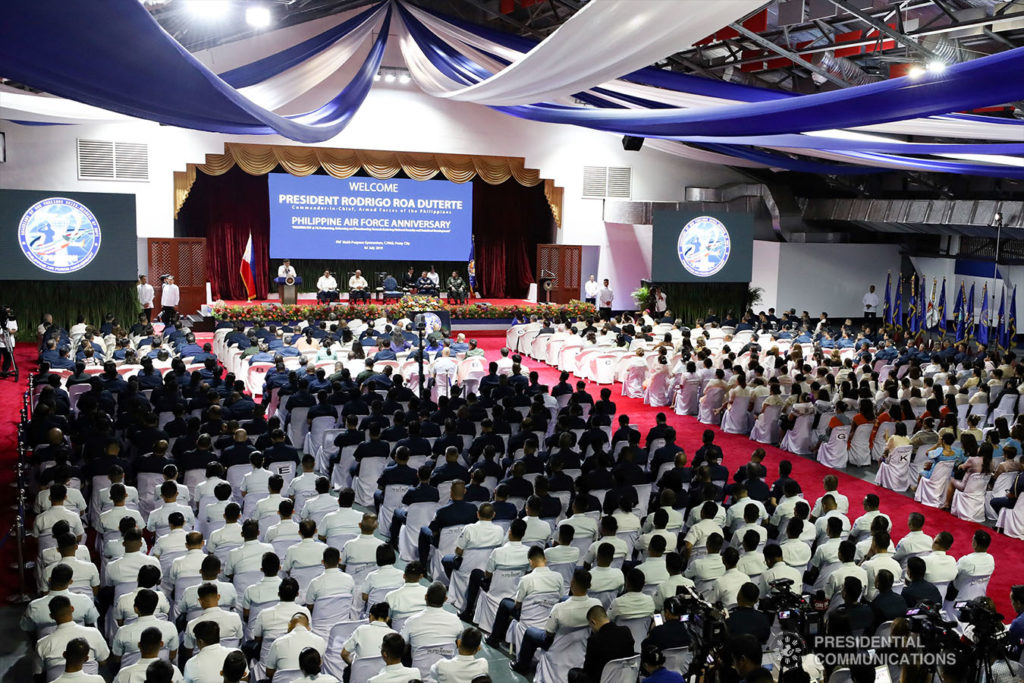 The Chief Executive also acknowledged PAF members' unwavering commitment to their sworn duty to protect the country's territory through aerial reconnaissance and maritime patrol missions in the West Philippine Sea and the Philippine Rise.
PAF also takes a major role in securing the Malampaya Natural Gas Plant off the coast of Palawan, he said. It is also instrumental in the success of the government's efforts in rescue and relief operations in disaster areas and aerial observations in calamity-devastated communities, as well as airlift of government personnel and survivors.
"Let me take this opportunity to acknowledge your very crucial role in our military's internal security operations by providing air assets and close personnel support to your ground troops during engagements with the Abu Sayyaf and other local terrorist groups," the President said.
He called on PAF personnel to continue performing their duties to the best of their abilities especially in addressing the current challenges of terrorism, extremism, and other external threats.
"Let us work together as one team so we may effectively uphold our sovereignty and protect the safety of our people at all times and at all costs."
Among those present during Tuesday's event were Defense Secretary Delfin Lorenzana, National Security Adviser Hermogenes Esperon Jr., AFP Chief of Staff Gen. Benjamin Madrigal Jr., and Senators Christopher Lawrence "Bong" Go and Ronald Dela Rosa.