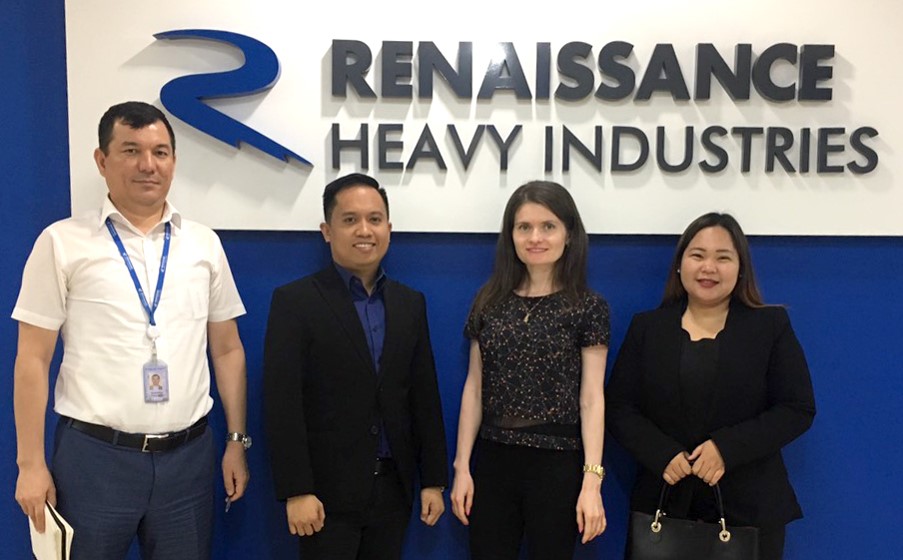 Moscow, Russia — To create legal opportunities for highly-skilled Filipino professionals to work in Russia, the Philippine Embassy in Moscow met with the officials of a major international construction services company on August 26, 2019.
Philippine Embassy in Moscow Third Secretary and Vice Consul Catherine Alpay joined Manila-based Rensol Recruitment Chairman and Chief Executive Officer Arnold Mamaclay in a meeting with Deputy Director General of Personnel Zahid Rahimov, and Renaissance Heavy Industries Lead HR Specialist Olesea Iularji at their office in Moscow.
In 2019, the Russian Ministry of Labor and Social Affairs granted Renaissance with 773 work quotas in Amur Region and 325 in Tyumen Region, specifically for Filipino professionals and skilled laborers of various specializations. The Amur region is the location of the Amur Gas Processing Plant, the largest construction project in Siberia which is set to become one of the largest natural gas processing facilities in the world. Tyumen region, on the other hand, is working on building what is touted to become the largest modern petrochemical facility in Russia.
Renaissance Heavy Industries specializes in the construction services sector and has been awarded large government tenders in many countries around the world. In Russia alone, the company supplies thousands of workers, both Russian and foreign, to numerous job sites across the country on projects in the commercial sector as well as in hydrocarbons, power, mining and metallurgy, and processing plants.
The Renaissance officials confirmed with the Embassy that some 59 Filipino skilled workers are currently working in the Amur Region. They have plans to hire more Filipinos in the near future, as evidenced by the increase in work quotas requested for 2019. They also mentioned that certain skills are in high demand in some of their major projects over the next few years, such as tungsten inert gas (TIG) welders and planners, among others.
During the meeting, Vice Consul Alpay had the opportunity to discuss the consular needs of Filipino workers with Mr. Rahimov and Ms. Iularji, as well as to raise the importance and value of linking the Embassy directly to Overseas Filipino Workers (OFWs) under contract with Renaissance to ensure the promotion and protection of their rights. Both Renaissance officials assured the Embassy of the company's cooperation and even described how they care for their workers, arrange travel to their home countries during vacation leaves, and ably respond to workers in medical distress or other types of emergencies while they are in the job site.
Both Renaissance officials as well as Mr. Mamaclay affirmed their active interest and ongoing efforts to bring more Filipino professionals and skilled workers to Russia through legal means.
"Being able to meet with both Philippine and Russian private sector stakeholders allowed us to view the budding ecosystem of legally documented Filipino professionals now contributing to the development of Russia," Philippine Ambassador to Russia Carlos D. Sorreta remarked. "We may yet see an increase in demand for skilled Filipino laborers and professionals in the next few years, which indeed confirms that there are legal job opportunities here in certain sectors. We should also be proud that the proficiency, talent and good reputation of our OFW professionals have carried over to this side of the world and they are a welcome addition to our growing Filipino community in Russia." END
For more information, visit https://www.moscowpe.dfa.gov.ph, or https://www.facebook.com/PHLinRussia or https://twitter.com/phlinrussia.