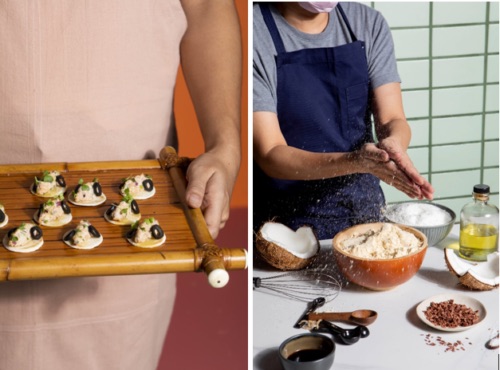 The Center for International Trade Expositions and Missions (CITEM) organized via Zoom a series of digital business-to-business (B2B) matchmaking events with the Philippine delegation for FOODEX and Japanese buyers, as part of the agency's ongoing efforts to leverage borderless communication in facilitating trade and export promotion.
During meetings with Japanese buyers, the Philippine delegation for FOODEX showcased healthy, organic, and natural food products.
Presented to the health-conscious Japanese market were products including mango-infused vegetable drink mixes by Business Innovations Gateway, Inc., varied coconut-based products by Eau de Coco Inc., Limketkai Manufacturing Corporation, and Pasciolco Agri Ventures, snacktime favorites by Magic Melt Inc., banana chips by Prime Fruits International and See's International Mfg. Corp., fresh cavendish bananas and golden pineapples by SL Agrifood Corporation, and tuna and sardine products by Century Pacific Food and Market Reach International Resources, respectively.
After an initially planned meeting on 23 June 2021, Japanese buyers requested for an extension which CITEM organized on 29 June 2021. In both B2B matchmaking events, each company was assisted by a liaison officer and an interpreter to ensure the smooth conduct of a total of 60 meetings. These meetings then resulted in USD1.8M in export sales under negotiation.
The pursuit of the Japanese market is part of a larger effort by the Department of Trade and Industry (DTI), of which CITEM is the export promotions arm, to leverage business opportunities in the region. Japan imported JPY5.81T worth of food and beverage products in 2019, and JPY6.3T in 2020, making the country an ideal partner for Filipino food companies that produce healthful food products.
The follow through to the Philippines' fully digital participation in FOODEX, the largest food and beverage trade show in the Asian region, was organized in partnership with the Philippine Trade and Investment Center (PTIC) in Tokyo. The database used for the B2B matchmaking events was built through a five-year effort by PTIC, which involved intensive information and telemarketing campaigns.
–
Stay updated with news and information from CITEM by visiting their website at https://citem.gov.ph.